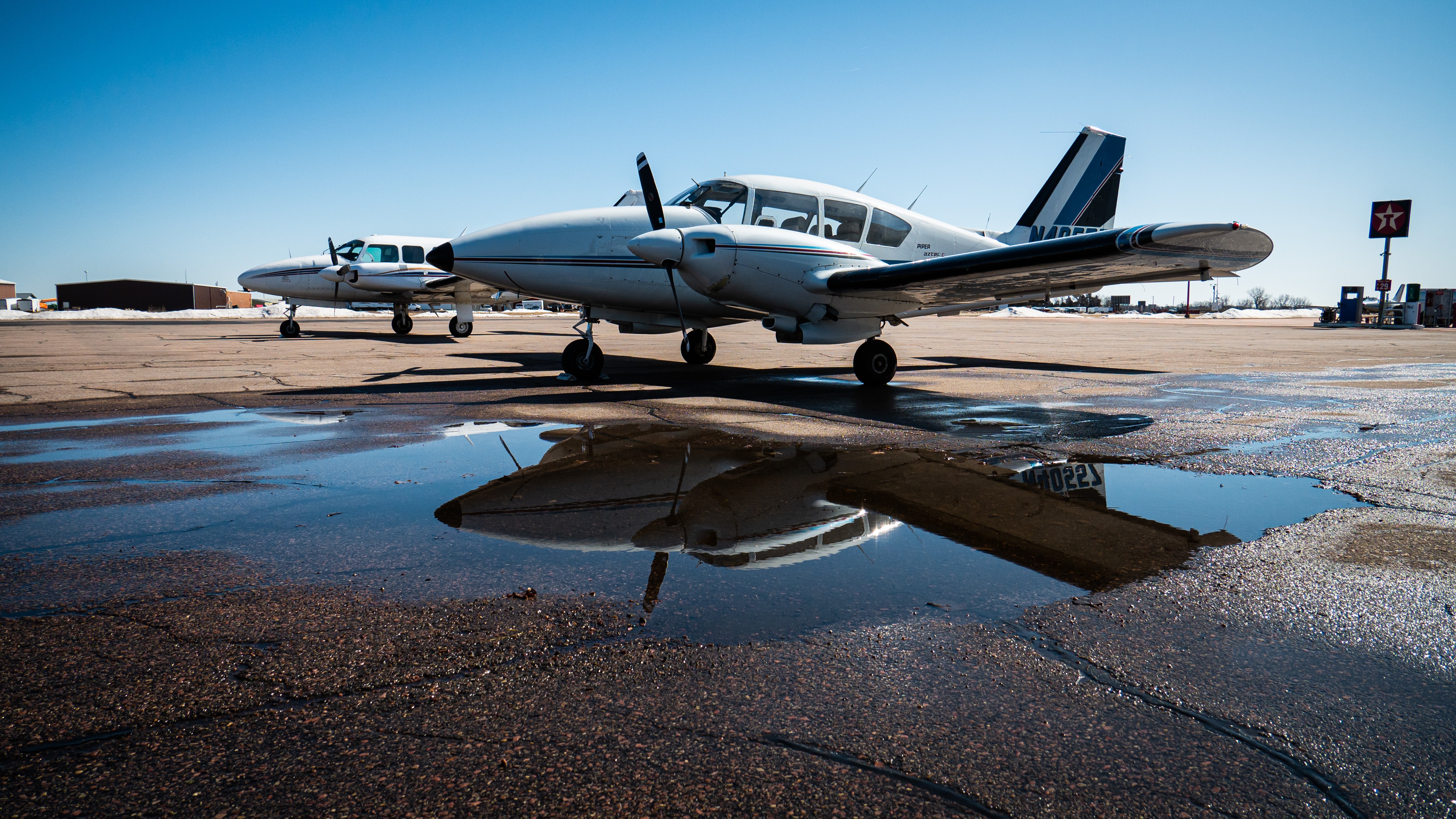 General Aviation Responds to the Coronavirus Outbreak
As the COVID-19 pandemic continues throughout the world, we are tracking the impacts on flight training and the general aviation industry as a whole. We will update this page frequently as our friends and partners in general aviation continue to provide and publish new information.
April 3, 2020
Backcountry Pilots at Odds Over Coronavirus
The question of whether to fly or not in the age of COVID-19 has sparked a lively debate among some of the world's great social isolators. Read the story in Plane & Pilot.
---
April 2, 2020
ICAO App Offers Up-To-Date Airport Status
The International Civil Aviation Organization has created an airport status app for operators. Updated daily, the app lists the number of departures observed in each of ICAO's 192 member states over the past seven days and indicates percentage-measured week-over-week changes in departures. A traffic data label for each airport or country allows users to see daily departures over time since October 2019. Operators can access COVID-19 NOTAMs via APIs through ICAO's API Data Service. Read more on AINonline.
General Aviation Groups Seeking Additional FAA Assistance
In a letter to Ali Bahrami, associate administrator for aviation safety at the FAA, a coalition of associations expressed its appreciation to the agency for its initial efforts to ease the regulatory impact on general aviation. The groups then called for the FAA to take additional steps to ease the burden further.
Specifically, the letter requested seven additional steps. The general aviation industry has requested similar exemptions and deviations to ensure the continuity of operations and commerce during the COVID-19 pandemic, including but not limited to the following:
Extension of 14 CFR Part 61 pilot currency requirements (e.g., flight review, IPC, PIC/SIC proficiency checks)
Guidance that 709 reexaminations or paperwork inspections in person (such as logbook inspections under 61.51 or maintenance record inspections under 91.417) be held off, or at least conducted electronically, during the current social distancing safety protocols and directives regarding nonessential activities
Extensions for certified flight instructor certificate renewal, expiration, and endorsement periods
Extension of the knowledge-exam expiration period
Extensions for applicants in the ability to complete practical examinations
Extension for filing documents under 14 CFR Part 13 (Subparts C, D, and G)
Extensions for aircraft maintenance and continuing airworthiness requirements with necessary mitigation procedures.
FAA Extends Cessna 210 AD Compliane Deadline
The FAA has granted more time for operators of Cessna 210 single-engine airplanes covered by an airworthiness directive requiring corrosion inspections of carrythrough wing spars to comply with the AD in light of "unprecedented" obstacles caused by the coronavirus pandemic. Read the story on AOPA.
EBAA and GAMA Issue Action Plan to Safeguard Business Aviation
The European Business Aviation Association (EBAA) has called on European governments to take urgent steps to safeguard the future of the industry, while ensuring that in the short term it can continue to support efforts to mitigate the impact of the COVID-19 pandemic. In an open letter sent jointly with the General Aviation Manufacturers Association (GAMA) and national industry groups, EBAA presented an action plan including relaxation of some travel restrictions, the extension of pilot licenses and airworthiness certificates, and financial aid through guarantees, credit, and the suspension of taxes and fees. Read more on AINonline.
Worldwide Bizav Flying Fell 30% in March
Worldwide business aviation departures fell 30 percent year-over-year last month as the COVID-19 pandemic took hold, according to data released today by WingX Advance. Activity in Europe was down by 34 percent, while that for the U.S. dropped 30 percent. Read more on AINonline.
FAA Developing Examiner System Fixes, Extends Some Deadlines
In the short term as the coronavirus pandemic unfolds, the FAA issued guidelines to flight standards offices and designees on how to manage oversight and recurrent-training requirements in cases when the usual time allowances for compliance expire.

In broad terms, the guidelines state that if activities concerned with overseeing a designee are overdue or cannot be completed on time, "the designee should not be automatically prevented from performing additional delegated activities," based on a risk-assessment analysis.

The memo authorized FAA personnel to extend the due dates for required training of designees to December 31, noting that "additional policy deviations and guidance unique to specific individual designee types and ODA holders may be necessary in some cases and will be issued separately."

However, "if the designee's overall performance is not satisfactory, the Flight Standards office will notify the designee in writing to cease delegated activities until the oversight activity is completed." Oversight personnel must document the risk analysis process they use when making the decisions. Read the full story on AOPA.
---
April 1, 2020
SUN 'n FUN Cancels for 2020
The show had been postponed once already, but organizers made the cancellation announcement after a series of pandemic developments. Read the story in Plane & Pilot.
Preparing for ATC Zero Events
During this time of national emergency caused by the COVID-19 pandemic, air traffic control remains a critical service to ensure safe and efficient operations. However, the virus is also affecting ATC personnel, which has resulted in reduced staffing and even required some facilities to have unplanned closures (ATC zero). If you will be flying into an airport or airspace affected by an ATC facility that has an unplanned closure or that is providing limited services, be prepared for possible delays, airborne holding, diversions, reroutes, and limited support for IFR pop-ups. Read the safety notice on AOPA.
NATA, NBAA Call for CARES Guidance
The National Air Transportation Association (NATA) and National Business Aviation Association (NBAA) sent a letter to U.S. Secretary of the Treasury Steven Mnuchin on Wednesday requesting additional guidance and flexibility for the general aviation community on the loan and grant provisions enacted in the Coronavirus Aid, Relief, and Economic Security (CARES) Act. The letter (PDF) also asked the Department of the Treasury to consider the scale and business operations of GA air carriers and FBOs when developing loan and grant program guidance. Read more on AVweb.
UK Department of Transport and Civil Aviation Authority Specifify That Stay-At-Home Guidance Precludes Recreational Flying
The relevant authorities in the UK have cut through any grey area: people should not take part in recreational flying during the current coronavirus outbreak. According to the Department of Transport and the Civil Aviation Authority, this is in line with government guidance to stay at home unless it is absolutely necessary to go out. Read the full guidance document on GOV.UK.
---
March 31, 2020
FAA Can't Waive Insurance Requirements
The recent FAA decision to temporarily suspend enforcement of medical certificate lapses during the coronavirus emergency may not change insurance policy requirements. Read the story on AOPA.
ForeFlight Hosting Flight Simulation Webinar on April 10
Learn how to use ForeFlight with popular flight simulator programs to maintain your ForeFlight know-how with realistic sim flights. This webinar will include multiple ForeFlight staff demonstrating how easy it is to connect ForeFlight to flight sims and discussing how it can improve your use of the app. This webinar will include live Q&A. Click here to register.
SUN 'n FUN Update Expected Early Next Week
Per this article in Plane & Pilot, SUN 'n FUN will issue an official update next week regarding the status of its event tentatively scheduled to begin on May 5.
'Aviation Appreciation' is Now Available in the Redbird Virtual STEM+ Lab
The Redbird Virtual STEM+ Lab is designed to keep middle and high school students engaged in aviation during the COVID-19 pandemic. The all-online version of Redbird's popular STEM labs will feature six interactive classes aimed at engaging students' creativity and continuing to build interest in science, technology, engineering, and math (STEM) outside the classroom.
Aviation Appreciation – March 31, 2020
It is hard to imagine an industry that could have as significant an impact on the planet in as little time as aviation. In this episode, we will cover a brief history of the aviation industry. We will explore how aviation's long and humble beginnings led to our dependence on airplanes today. We also will discuss the various ways that airplanes and aviation affect you and your local economy. Watch the class here.
HAI Issues Updates on FAA Announcements for Airmen Medical Certificates, Part 135 Operators
In a press release on March 29, HAI cautioned against FAA-certificated flight personnel allowing their medical certificates to expire based on information contained in the March 26, 2020, FAA Docket No. FAA-2020-0312.
An FAA representative stated that this was a draft document that had not been completely vetted within the FAA and thus was not ready for public release. Consequently, HAI recommends affected individuals ignore the wording in the docket.
This docket stated that the FAA was waiving enforcement actions against pilots and aircrewmen whose medical certificates will expire between March 31 and June 30, 2020. The document explained that the FAA's waiver was connected to the COVID-19 pandemic and its related disruptions.
"Again, we recommend that any persons whose airman medical certificate will expire between now and the end of June should continue their efforts to obtain this certificate as quickly as possible," says James Viola, president and CEO of HAI. "We don't yet know if the FAA will reissue this docket, so make sure your paperwork is up to date."
HAI has also reached out to the FAA for clarification of a series of exempted Part 135 regulations issued last week to the National Air Transport Association (NATA). According to the agency, the exemption issued to NATA is also extended to other Part 135 air carriers and operators that submit a letter of intent.
The exemptions cover the following Part 135 regulations:
· 14 CFR 135.245(c), 135.247(a), 135.301(a), 135.323(b), 135.337(g), 135.338(g), 135.339(b), 135.340(b), and 135.505(d).
"HAI is aware that these exemptions are needed by our members," says Viola. "Our Operations Department created this template letter for companies to use when they request this exemption."
HAI members should contact ops@rotor.org with questions about these and other regulatory challenges.
Kit-Aircraft Manufacturers: OK So Far
While Boeing and Textron have shut down manufacturing facilities already, it's not yet the same for smaller manufacturers and service providers. Many small manufacturers have been able to stay open with a combination of work-from-home employees, reconfigured manufacturing layouts, staggered shifts and other tweaks. While everyone has seen temporary hits to productivity, these smaller companies have, for the most part, been able to keep working. Ready the story on AVweb.
Aircraft Market Reacts to the Coronavirus
The aviation industry's response to the spread of the coronavirus in the United States in March was swift and dramatic. A seller's market in general aviation aircraft suddenly ended, and this downturn felt different from previous ones. Read the story on AOPA.
---
March 30, 2020
5 Tips to Stay Proficient on a Home Flight Simulator
As many pilots and student pilots around the world shelter-in-place during the coronavirus outbreak, flight simulation is one of the best ways to practice and maintain flying skills. However, in the simulation world, it can be tempting to bend the realities of operating an aircraft. To help you build and maintain your proficiency during the pandemic, check out these five tips on Redbird Landing to keep your training focused and your scenarios realistic with a flight simulator.
NATA Issues FBO COVID-19 Guidance
The National Air Transportation Association (NATA) has issued guidance for FBOs and ground handlers as they face the growing COVID-19 spread. Above all, the organization noted, workers who are sick or have been exposed to the virus must not report to work, an expectation that management must effectively communicate to its employees on a continuous basis. Businesses should establish contingency plans for all critical operations, including fuel receipt, fueling, towing, CSR, and accounting operations. Read the story on AINonline.
Aircraft Insurance Pause Not Worth Risk, Says Broker
While aircraft insurance policies can be put on hold during extended periods of grounding such as during the current COVID-19 crisis, the cost savings don't outweigh the risks for most operators, Aviation Specialty Insurance president Matt Drummelsmith told AIN. Read more on AINonline.
HAI Urges Caution Regarding FAA Announcement for Airmen Medical Certificates
If you are a pilot or aircrewmen whose medical certificate will expire between March 31 and June 30, 2020, the FAA has announced that it is waiving enforcement actions against you if you are unable to obtain a new certificate in a timely manner due to the COVID-19 pandemic.

However, in an email on March 29, Helicopter Association International (HAI) recommended that affected personnel do not delay in obtaining a current medical certificate. "I note that the document was signed by Legal, not Flight Standards," says James Viola, president and CEO. "It's also possible that insurance companies may not acknowledge this document as binding."

HAI further suggests contacting your insurance company if you intend to operate with an expired certificate. HAI is seeking further clarification on this FAA policy change and will provide additional guidance when it is available. In the meantime, HAI members should contact ops@rotor.org with questions about this and other regulatory challenges.
---
March 27, 2020
FAA Suspends Enforcement of Medical Certificate Expirations Due to Coronavirus Pandemic
The FAA and the Department of Transportation have taken the unprecedented step of formally suspending enforcement action against required pilot flight crew members if their medical certificate expires between March 31, which is next Tuesday, and June 30, 2020. Read more in Plane & Pilot.
'ATC Zero' Affects Growing List of Facilities
Several air traffic control facilities across the United States were in contingency mode on March 27 as the spread of the coronavirus temporarily closes towers and impacts tracons, causing far-reaching impacts in the National Airspace System. Read the story on AOPA.
Bizav Demand Dip Deepens as COVID-19 Closes Factories
Those looking for silver linings in the dark clouds over business aviation this week found themselves squinting to see any. If the COVID-19 pandemic's repercussions for the industry still seemed ambiguous at the end of last week, there is now little doubt that the sector's engines are spooling down and the industry is bracing for a period of inactivity. The only remaining questions seem to be for how long this might last and whether it could prove to be more than just a temporary interruption to what until now has been a rising tide for business aviation. Read the story on AINonline.
---
March 26, 2020
U.S. Relief Bill Sets Aside Billions for Aviation Industry
In the end, Congress specifically is directing almost $80 billion in loans and grants for certain aviation segments, as well as $10 billion in airport grants with $100 million set aside for general aviation facilities. For those that don't qualify, Congress has set aside a loan pool of $454 billion that may be available to states, municipalities, and businesses in general, including aviation entities. Read the story on AINonline.
Looking Ahead to AirVenture 2020
Jack Pelton, EAA CEO and Chairman of the Board, addresses how the organization is approaching the planning process for AirVenture, and explains the timetable for the show as we sort through ever-changing world events. Read the story on EAA.
Who Stays Open? With COVID-19 Quarantines, Aviation Companies Struggle With the "Essential" Designation
Businesses, from FBOs to repair shops and online retailers, try to figure out where they fit in, with widely varying interpretations. Read the story in Plane & Pilot.
NIFA Cancels May SAFECON Event
Following the trend of many upcoming aviation events, the National Intercollegiate Flying Association (NIFA) has cancelled SAFECON 2020, the national flight competition that was scheduled to take place in Oshkosh, Wisconsin, from May 18 to 23. EAA will host the competition in Oshkosh next year. Read more in Flying.
So, You're Under Coronavirus Quarantine? Can You Legally Go Flying?
Roll up your sleeves and get ready to fight. Plane & Pilot outlines what the issues are, what you can do, and what trouble you might get in if you run afoul of the rules.
---
March 25, 2020
FAA Policy Expected on Extending Compliance Deadlines
An FAA policy statement is expected soon to extend the expiration dates pilots face for practical and knowledge test eligibility, currency and proficiency intervals, medical certificates, aircraft maintenance, and other deadlines. Read more on AOPA.
Flight Schools Considered 'Critical Infrastructure'
The question of whether flight training qualifies as an "essential" function that many states and municipalities, and the federal government have so far excluded from stay-at-home advisories remained subject to varying interpretation by industry groups and individual operators. Read the story on AOPA.
AOPA Fly-In at Casper, Wyoming Postponed to 2021
AOPA is postponing its fly-in at Casper, Wyoming, originally scheduled for June 19 and 20, until 2021 because of the coronavirus pandemic. Read more on AOPA.
Redbird Launches Virtual STEM Lab Amid School Closures for COVID-19
The free online series, Redbird Virtual STEM+ Lab, will engage and inspire middle and high school students' interests in aviation as classrooms remain closed during the coronavirus outbreak. For more details, including the class schedule and requirements, visit the Redbird Virtual STEM+ Lab page.
---
March 24, 2020
AVweb Wants to Hear From Flight Schools and Flight Instructors
If you teach at or run a flight school—any size, from one of the big ones to a small-airport school—and have been affected by the coronavirus pandemic, AVweb wants to hear about it. Email its editorial team about your experiences so far at newsteam@avweb.com.
Training Providers Help Build Your Aviation Skills at Home
With the Coronavirus outbreak causing the drawing down of in-person flight training in some areas of the country this spring, you can look to providers like Sporty's Pilot Shop, Redbird Flight Simulations, Aviation Supplies & Academics, King Schools, and others to help keep your focus on your aviation goals. Read the story in Flying.
Flight Training Industry Deciphers Shelter-in-Place Orders
In a newsletter last Friday, the Flight School Association of North America (FSANA) said that "the California Executive Order [to shelter-in-place] is important to all flight schools because it specifically ties the list of businesses that may remain open to a federal agency, CISA. It is FSANA's opinion that flight schools outside of California may also choose to remain open because of this very important designation." However, flight schools still are left grappling with the question of whether they should stay open. Read the story in Flying.
AOPA Urges Members to Fly Informed, With Caution
As the coronavirus pandemic response continues to impose once-unthinkable disruptions, AOPA advised members to continue essential flights, with caution. No specific restrictions on general aviation are expected, though it may be impossible to fly with passengers in small aircraft and maintain social distancing. Read the story on AOPA.
Hawaii and Florida Quarantine New Arrivals
Popular tourist destinations Hawaii and Florida have taken further action to quell the COVID-19 outbreak by issuing mandatory 14-day quarantines for certain new arrivals into these U.S. states. Hawaii has ordered all people entering the state to self-quarantine, while Florida's quarantine is targeting those who arrive from COVID-19 hotspots. Read the story on AINonline.
PR Expert Offers Best Practices for Aviation Business Crisis Communications
Voice, timing, and transparency are key elements for your COVID-19 public relations. Read all the tips in Flying.
---
March 23, 2020
How to Clean and Disinfect Your Flight Simulator
Using a flight simulator is a great way to keep your flying skills fresh while reducing the risk of spreading the coronavirus to or from your flight instructor or fellow pilots. However, even if you are using a simulator in isolation, you should clean and disinfect the device often to reduce your risk of contracting the infectious disease. Read the guidelines on Redbird Landing.
Aviation Groups Back Emergency Airport Funding to Fight Coronavirus Impact
Aviation groups are urging Congress to support needed funding for airports across the country while ensuring that small and general aviation airports also receive a portion of any funds made available to help cope with the coronavirus pandemic. Read the story on AOPA.
ERAU Is Offering Free Online Courses to Students and the Public
Embry-Riddle Aeronautical University is offering free online courses to students and the public who are limiting in-person social interaction during the coronavirus pandemic. Topics range from aeronautics and meteorology to computer applications, history, and more. Read the story on AOPA.
McCarran Airport's Control Tower Closure Stretches Into 5th Day
Flight operations in Las Vegas will be at reduced levels for a fifth straight day Monday as McCarran International Airport's air traffic control tower remains closed.
The tower was shuttered following a controller testing positive for COIVD-19 late Wednesday night. The Federal Aviation Administration closed the tower to clean and disinfect it. Read the full story in the Las Vegas Review-Journal.
Midway Airport Control Tower Shutdown Continues Into 6th Day
The air traffic control tower at Chicago's Midway Airport remained shuttered on Monday due to the coronavirus.
It marks the sixth day of the shutdown for the tower after the Federal Administration Aviation abruptly shut it down on Tuesday, March 17, when employees in the tower tested positive for coronavirus. Read more in the Chicago Business Journal.
---
March 20, 2020
NBAA Provides COVID-19 Operational Guidance
With many business aviation operators contending with the continuing spread of the COVID-19 virus, NBAA is providing the very latest information available from the medical community and industry experts on the ever-evolving global situation. Read more on NBAA.
Knowledge Test Provider PSI Temporarily Closes Centers
PSI, the FAA knowledge testing provider, is temporarily closing testing centers that it owns and operates in the United States and the United Kingdom. Read more on AOPA.
JFK Tower Reopens After COVID-Related Closure
John F. Kennedy International Airport's (JFK) air traffic control tower reopened at approximately 11:30 a.m. local time following a thorough cleaning after a technician assigned to the New York facility tested positive for coronavirus. Read the story on AVweb.
Travel Bans Complicate Bizav's Bid to Keep Business Moving
Given the rapidly diminishing airline schedules worldwide, the COVID-19 crisis still has the potential for burnishing business aviation's value proposition. But, more immediately, it seems that operators and the supply chain that supports them are faced with significant challenges to maintain service. Read the story on AINonline.
---
March 19, 2020
FAA Policy On Flight Tests Amid Coronavirus Epidemic Emerging
For now, FSDOs seem to be letting Designated Pilot Examiners decide to fly, or not, amid the COVID-19 pandemic. One DPE who's still doing checkrides explains his choice and reasoning. Read the article in Plane & Pilot.
The U.S. State Department Advises U.S. Citizens to Avoid All International Travel, and That Those Already Abroad Should Return Immediately or Prepare to Shelter in Place
A Federal Register notice published March 17 details new restrictions and arrival procedures for international flights that were imposed with immediate effect. The U.S. Department of Homeland Security, along with U.S. Customs and Border Protection and the Transportation Security Administration, published the notification pursuant to proclamations issued by President Donald J. Trump starting on March 11 that seek to bar entry by foreign nationals who have visited parts of Europe and the United Kingdom within the preceding 14 days, building on similar measures previously enacted to screen or limit arrivals from China and Iran.
Cargo flights and flights carrying only crewmembers were excluded from the new requirements, though that exclusion does not apply to GA aircraft whose passengers or crew have visited the designated areas within the preceding 14 days prior to entry. Read the full story on AOPA.
COVID-19 Disrupts Pilot Training Industry
How flight schools and university aviation programs are dealing with the novel coronavirus varies from place to place. The editorial staff at Plane & Pilot breaks down what it's seeing.
---
March 18, 2020
AEA Cancels 2020 Convention
The Aircraft Electronics Association announced the decision to cancel its 63rd annual AEA International Convention & Trade Show that was scheduled for March 24-27 in Nashville, Tennessee. The event will not be rescheduled. Read more on the AEA website.
---
March 17, 2020
Transport Canada Extends Medical Privileges for up to Four Months
Pilots whose medical expires before June 1st are able to keep flying until August 1st on their old medical. Transport Canada also has advised Civil Aviation Medical Examiners to refrain from booking appointments before May 1st. Read more on AVweb.
AOPA President Mark Baker Urges FAA to Lift 'Impossible' Compliance Barriers
In a March 17 letter to FAA Administrator Steve Dickson, AOPA President Mark Baker described the impact of the coronavirus on general aviation pilots and urged a flexible approach that allows extensions and relief from regulatory time restrictions for the duration of the crisis.
Many pilots confront seemingly intractable dilemmas in the face of closures, curtailment of travel, and the recommendations of health officials to practice social distancing. "For example, federal requirements require pilots to renew their medical certificate in person, to complete their pilot certification examinations within a certain amount of time, and to complete knowledge tests at off-site testing facilities," he wrote. "The current restrictions to the U.S. population create an impossible barrier for these individuals to meet the necessary airman and aircraft requirements." Read the full story on AOPA.
EAA AirVenture Oshkosh 2020 Moving Forward as Planned for Now
Currently, the 'World's Greatest Aviation Celebration' is still set for July 20-26 in Oshkosh, Wisconsin. Read the story in Plane & Pilot.
---
March 16, 2020
AERO Friedrichshafen 2020 Cancelled
After considering many possible options for rescheduling the event to take place on a later date, Messe Friedrichshafen decided that the next edition of AERO Friedrichshafen will take place from April 14 to 17, 2021. Read more on the AERO website.
Go Wheels Up! Texas And AOPA Fly-In Postponed Indefinitely
Go Wheels Up! Texas and the AOPA Fly-In scheduled for May 29 and 30 in San Marcos, Texas, have been postponed indefinitely. Read more on AOPA.
---
March 15, 2020
EBAA, NBAA Cancel European Business Aviation Convention & Exhibition
The European Business Aviation Association (EBAA) and National Business Aviation Association (NBAA) announced the decision to cancel the European Business Aviation Convention & Exhibition 2020 (EBACE2020), due to concerns related to the rapidly evolving Coronavirus (COVID-19) outbreak. The event was scheduled to take place in Geneva from May 26-28, 2020. The two cosponsoring partners have agreed that exhibit and registration fees will be refunded in full. Read more on the EBACE website.
---
March 13, 2020
2020 SUN 'n FUN Aerospace Expo Rescheduled for May 5-10, 2020
SUN 'n FUN has tentatively postponed the 2020 SUN 'n FUN Aerospace Expo until May 5-10 and will make a final determination on its ability to hold the event by no later than April 17h. Read more on the SUN 'n FUN website.
Top 5 Fun Pilot Things to Do From Home
With events and workplaces going on indefinite breaks, a lot of us are flying from home. The editorial staff at Plane & Pilot offers some great ways to pass the time, aviation style. Read the article in Plane & Pilot.
Get Redbird Landing updates delivered to your inbox.
You can unsubscribe at any time. (Privacy Policy)