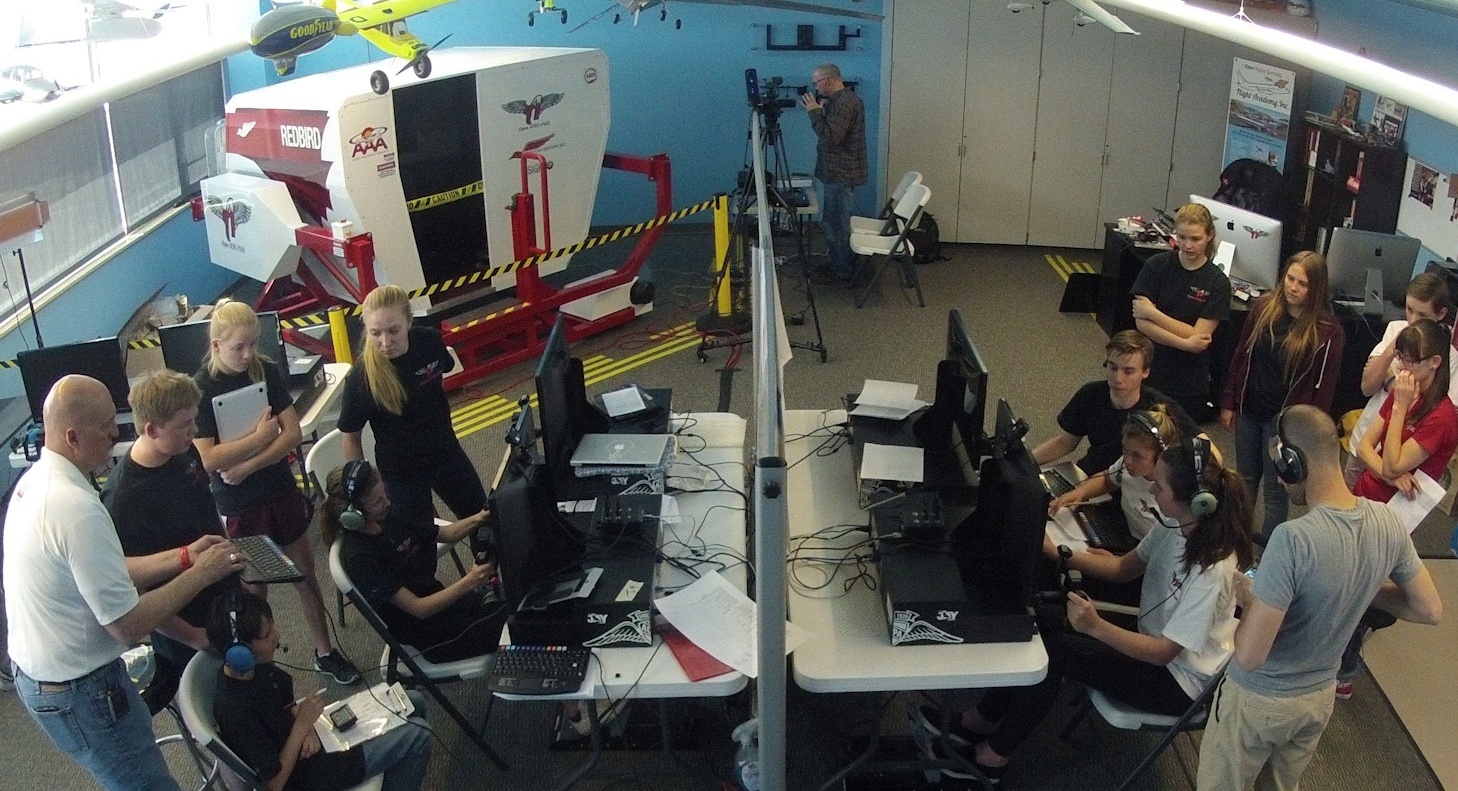 The Impressive Story of 24 Students that "Flew" Around the World
Every spring, Aspen AEROspace Alliance hosts a "Round-The-World Flight Challenge" competition to highlight the progress its students, known as AEROnauts, have made since they first began training at the beginning of the school year. The competition is a real-time, real-world test of math, science, aeronautical skill, and know-how as two teams of AEROnauts use Redbird JAY desktop simulators to fly an Embraer Phenom 300 around the world.
In the weeks leading up to this year's challenge, each team of 12 students was tasked with planning a flight route from Liberia to Key West with required fuel stops in Africa, Singapore, Russia, and Reno, Nevada. Once the event started, the AEROnauts took shifts as they flew their aircraft around the world, in real-time and without the help of an autopilot, which took nearly 48 hours. Each team had a professional airline pilot advisor to offer guidance and a real world perspective, but the actual planning and execution of the flight was up to the students.
Watch Winging It: Around the World in Two Days Now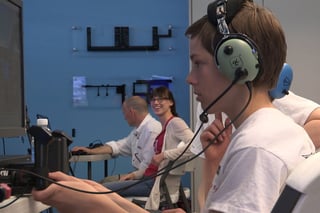 The teams were subdivided into Flight Crews composed of a Captain and a First Officer. Each Flight Crew flew three shifts (called legs) of two hours each over the course of the weekend. During a leg the Flight Crew alternated "Pilot Flying" duties every 30 minutes, giving every student plenty of time behind the stick, as well as performing the other required cockpit duties. When not flying, the AEROnauts got a chance to rest, eat, sleep, and socialize. In practice, the students spent a lot of their time out of the cockpit discussing the status of their team's progress, making plans for the next leg, and practicing their flying skills on a Redbird JAY located outside of the competition room.
The students clearly take this challenge very seriously and dedicated an impressive amount of time and effort to get an edge over the competition. Each team used knowledge, strategy, and skill in a wide range of topics to give themselves the best chance of victory. In addition to basic route planning, the AEROnauts learned about and practiced altitude selection for best speed and range, climb and descent planning, Flight Management System operation, GPS navigation, airspace and Air Traffic Control procedures, enroute progress tracking and adjustments, and hand-flying skills. Essentially, each team ended up developing its own Standard Operating Procedure for a large international flight department that operates advanced jet aircraft ... from scratch. The result is a group of 12-to-18 year olds with a breadth of knowledge and experience that is typically reserved for professional pilots and aviation managers.
Watch Winging It: Around the World in Two Days Now
Just like the real world, things rarely go to plan and the students were forced to make adjustments and deal with setbacks. In the end, it took a healthy dose of luck to win, but each team's skill and knowledge is what put them in a position to take advantage of opportunity when it was presented to them. This might be the most important lesson they learned all weekend.
Get Redbird Landing updates delivered to your inbox.
You can unsubscribe at any time. (Privacy Policy)